So. Further craft projects! I'm not posting everything - only completed works. And I was going to put off posting one of these, since it's a gift. But I'm pretty sure the recipient isn't going to hunt down any of my blogs.
First off, the gift for the owner of the place I work for. My manager asked me to make him a card, thanking him for Housekeeping Appreciation Week and the party we had for it.
The dirt is a gold embossing powder, left unheated. The broom is embroidery floss, black cardstock, a little bit of green puff paint, and a handle made from a fireplace matchstick (you know, the ones that are about as long as a piece of spaghetti). The chemical bottles are actually a pretty good example of how our chemical bottles look at work.
Next we have the flower hairclip I made for my manager at work.
This flower is made with copper mesh. The tint to the center of the petals is just sharpie. Each petal is edged in puff paint, and the very center, along with the squiggles on the petals, are also black puff paint.
The reason each petal is edged so carefully is the hairclip. It wears well, but I for one would not want that mesh catching on my hair.
And the last one for this post is a set of fairy wings for a friend's birthday. Which is a month off, but I wasn't really paying attention to that when I decided to do the project now.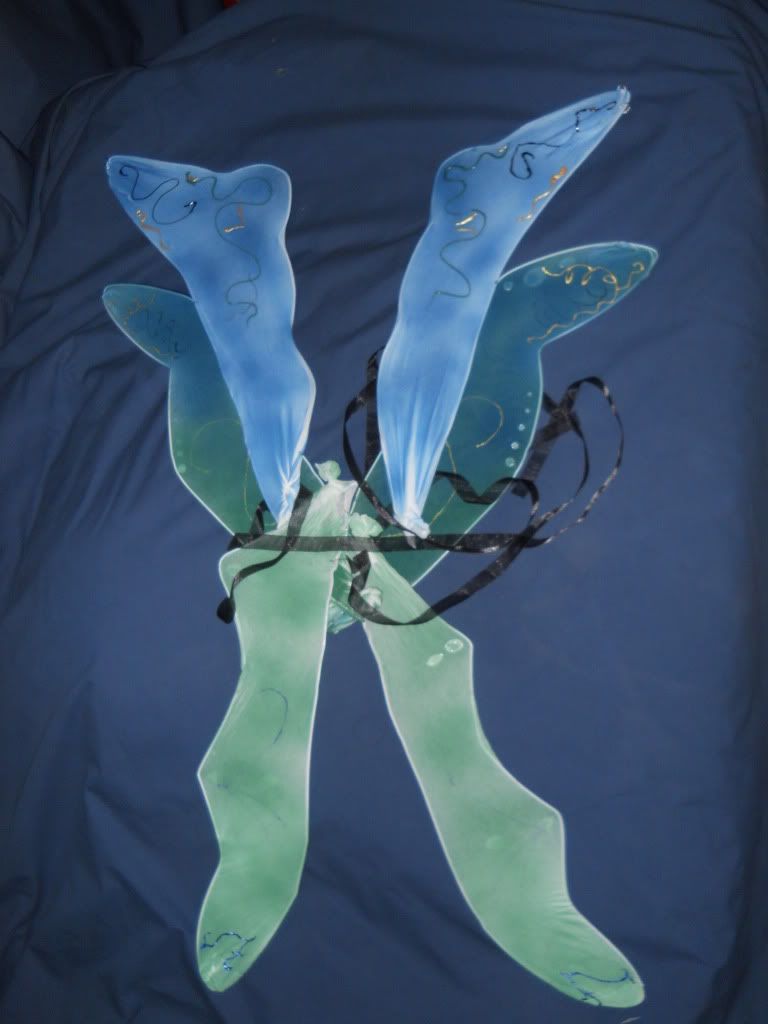 This is the back side of the wings, the side that is touching the wearer's back. The embellishments on this side are simple and limited, as most of it will not be visible when worn.
Here's the front side of the wings. Much heavier decoration, mainly puffpaint and rhinestones. The wingtips are pierced with little rings, and the wings themselves are white tights stretched over reshaped wire hangers, then liberally coated in blue and/or green spray paint. And the black ribbons are the straps. Each piece of wing is wired to the others with just normal wire, perhaps a slightly heavier gauge than floral wire.